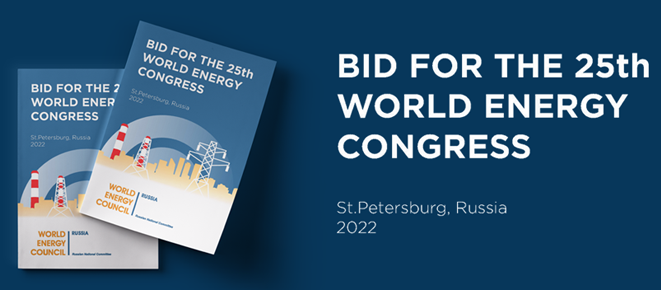 Russia bidding team herewith bids for the honor of hosting 25th WORLD ENERGY CONGRESS in St. Petersburg, Russia. The suggested dates are June 11-15, 2022.
The bid, initiated by the Russian National Committee of the World Energy Council (WEC RNC) and supported by Russian Energy Ministry, is a joint work of the WEC RNC and the meeting industry representatives such as Roscongress Foundation, a major conference and exhibition organizer, offering a range of services for running events of all kinds and levels of complexity, the Russian Convention Bureau, marketing organization intended to consolidate and unify the national congress and exhibition industry, represent and promote Russia on the international meetings industry market, Saint Petersburg Convention Bureau, promoting Saint Petersburg as one of the leading platform for business communication through bringing professional events to the city.
St. Petersburg is a charming place meeting all necessary requirements for the Congress, and our team is ready to do it's best to organize an excellent event.
Having the world's largest energy potential, Russia can initiate the discussion on forming transnational energy infrastructure, which will guarantee energy supply to regions with an energy deficiency, on the regional and sub-regional levels. This is particularly important, considering that the growing consumption of traditional energy resources linked to the economic growth and the enlarging population is a pressing issue. Experts say the global energy demand will double by 2030. Russia is ready to face and handle these challenges. We are sure that the 25th World Energy Congress can be held in Russia in 2022 at the highest possible level.