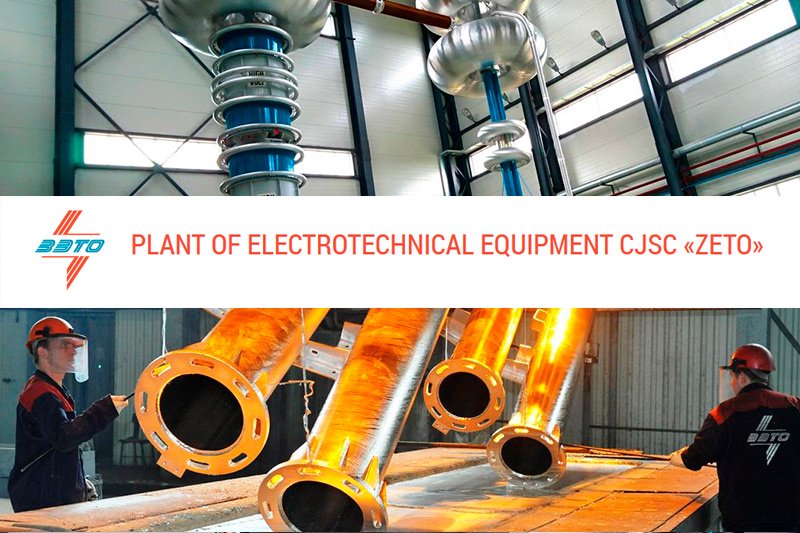 Region: Pskov oblast
Branscher: Tillverkning av elkraft- och automationsteknik
Produkter: starkströmsutrustning , lågströmsutrustning
Beskrivning:
Plant of Electrotechnical Equipment (CJSC "ZETO") was founded in 1959 and is one of the leading Russian enterprises in Russian Federation for the development and production of the high-voltage equipment for power generation and substations with voltage from 10 up to 1150 kV.
CJSC "ZETO" offers a wide range of products: complete set of rigid busbar for 110-500 kV, surge arresters for 0,4 -500 kV, polymer insulators for 10-500 kV. All equipment is being developed considering high technologies. Many constructive and technological solutions have been patented and do not have analogues all over the world.
The equipment manufactured by CJSC "ZETO" is engineered to operate in moderate temperature as well as in cold and tropical climate. It gives a good account of itself in the domestic and foreign markets. The supply portfolio includes cooperation with markets of Ukraine, Byelorussia, Kazakhstan, Uzbekistan, and other CIS and Baltic States. Our foreign partners are represented by China, Egypt, India, Vietnam, Bulgaria, Poland, Iran, Iraq, Bangladesh, and Cuba.
SS "Gribovo", OJSC "FGC UES", Moscow Region, SS "Alabuga", OJSC "GRID Company", Republic of Tatarstan; Hrazdan Hydroelectric Generating Station (HGS), Armenia; Vladivostokskaya CHPP-2 (Central Heating and Power Plant), CJSC "Far-Eastern electrotechnical company", Khabarovsk Territory; RUE "Vitebskenergo", SPA "Belenergo", the Republic of Belarus; Kurpsayskaya HGS, OJSC "Electric Generation Stations", Republic of Kyrgyzstan; SS "Kingiseppskaya", OJSC "FGC UES", Leningradsky District; SS "South-West", Vinnitskaya region, Ukraine and many more.
Quality management system and environmental management system have been certified in accordance with international standards ISO 9001:2008 and ISO 14001:2004.
Cooperation with certification authority TÜV SÜD Russland renders intelligent and practical assistance in elaboration of productive activity of the enterprise directed on decrease of the environmental hazard step-by-step and the increasing control of this influence.
CJSC "ZETO" is a highly effected, socially oriented company and aiming to be the leading enterprise in manufacturing of high-voltage equipment.
Adress: 182100, Pskov region, Velikie Luki, pr. Oktyabrsky, 79
Telefon: +7 81153 6-37-72
E-post: contract@zeto.ru
Hemsida: http://zeto.ru/