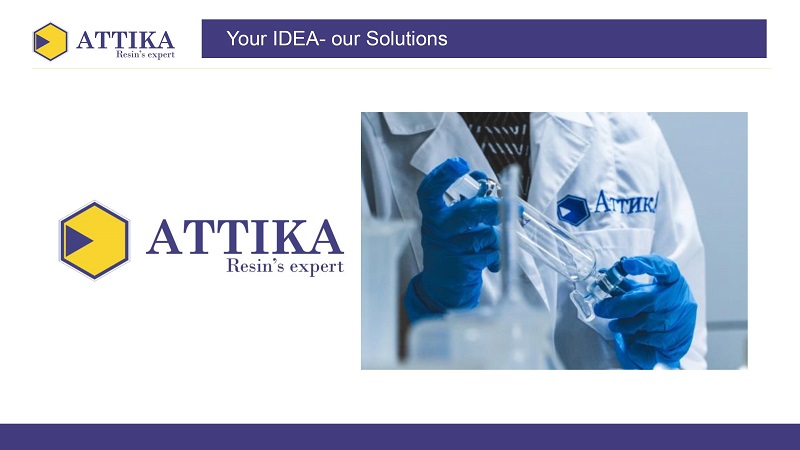 Region: Sankt Petersburg och Leningrad oblast
Branscher: Tillverkning av polymermaterial
Produkter: Polymerhartser
Beskrivning:
ATTIKA was established in 2003 in St-Petersburg, Russia.
We are one of the leading resin producers in Russia and CIS countries.
OUR MISSION – We produce high-quality resins to our Customers to Create world-class products!

Our STRUCTURE- we have 2 industrial plants:
one in St-Petersburg: production acrylic \ alkyd \ polyester resins
one in Ural region: production alkyd \ acrylic resins;
ATTIKA is the first russian company which has signed franshize Contract with SYNTHOPOL CHEMIE (GERMANY) to produce high-quality german resins in Russia.
ATTIKA has its own sales offices & warehouses in
– Russia
– Belarus
– Lithuania
– Ukraine
– Kazakhstan
besides we export our products to
Uzbekistan
Azerbaijan
Turkmenistan
Moldova
Our products are produced under our trade marks
ATTALATE – Alkyd resin for coatings;
ATTACRYL – thermoplastic acrylic resins for mineral substrates, stone coatings & road marking paints;
ATTSHIELD —Unsaturated polyester resin for composite;
SYNTHOPAN – Unsaturated polyester resin for FRP products by vacuum infusion and pultrusion;
This is joint business with SYNTHOPOL CHEMIE for composite products.
SYNTHALAT – Acrylic resin for the production of 2 PU polyurethane coating materials.
This is joint business with SYNTHOPOL CHEMIE for coatings
During more than 15 years we have develloped 4 main Principles of our company –
we called it PREF
Professionalism (Professionalism)
Respect (Respect)
Efficiency (Efficiency)
Finance (Finance)

Having more than 15 years of experience in coating & composite markets we could promote to our customers not only well-quality resin, but also to provide full technical support from the stage of determination technical specifications of the development of material till the final stage of testing of already done product of our Customer.

For us Customer is not just Customer , this is our Partner with whom we build long-terms relationships.
We believe that relationships are done not between companies but between PEOPLE.
We are open to any kind of cooperation and looking for a distributors in different countries.
Pls, do not hesitate to contact us.
Adress: Russia, 180146, St-Petersburg, Fedorovskoye district Vertial 2 nd passage, house 9
Telefon: +7 812 441-21-80
E-post: info@attikarus.ru
Hemsida: http://attikarus.ru/main/?lang=en
Ladda ner: