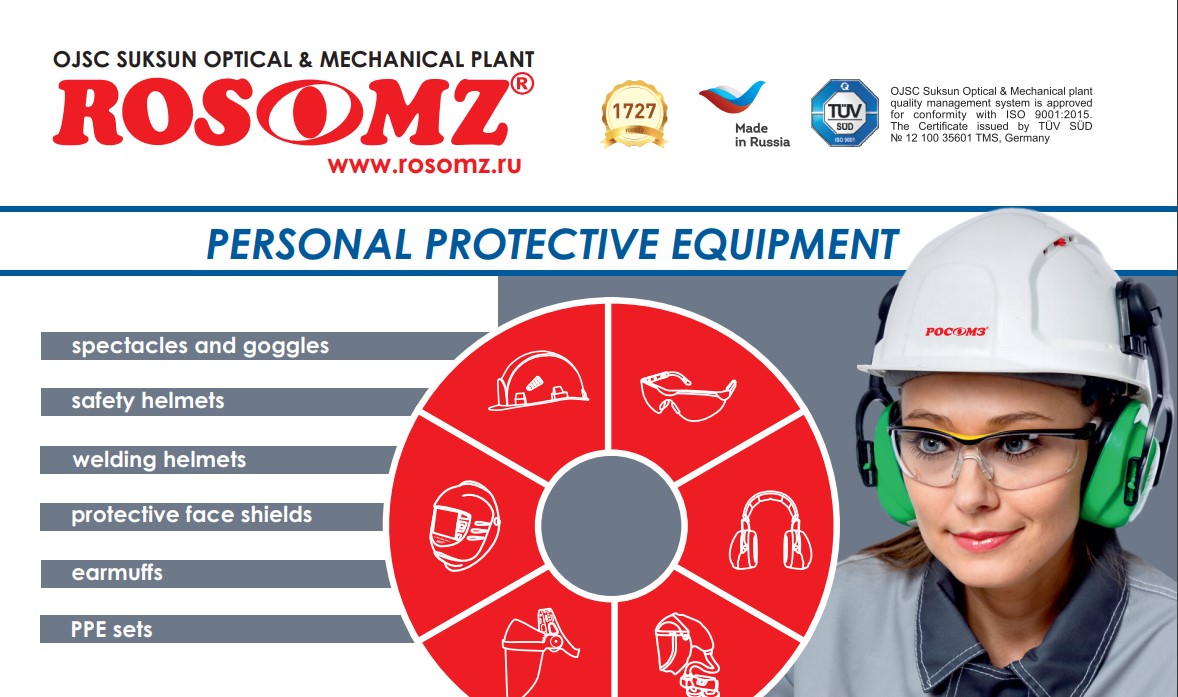 Region: Perm kraj
Branscher: Tillverkning av Personlig skyddsutrustning
Produkter: Personlig skyddsutrustning
Beskrivning:
Suksun Optical and Mechanical Plant ROSOMZ is a leading Russian developer and manufacturer of modern and highly effective personal protective equipment for head, eyes, face, hearing and respiratory system.

The production is located in Russia, in the Urals, Suksun settlement, on the territory of Perm region.

The plant was founded in August of 1727 as a copper factory.

During the Second World War the plant started the production of spectacle lenses and protective spectacles.

In 1995 a re-equipment programme was successfully launched.

Today Suksun Optical and Mechanical Plant – is an enterprise of full production run: engineering, manufacturing, testing and sale of PPE – all the stages are handled by the plant.

ROSOMZ professional team is comprised of 700 people.

The team of such specialists as new PPE engineering service (engineers, technologists, designers), tooling service, manufacturing unit, modern logistics center, sales managers, quality assurance services effectively operate at the plant.

Today ROSOMZ produces more than 700 items: protective spectacles, goggles, including items with corrective effect, face shields, welding helmets, ear muffs, safety helmets, PPE sets, filtering PPE of respiratory system, protective and heat-proof clothes. We have implemented the latest technologies of logotypes application with pad printing.

Testing laboratory has been created to control the compliance of the manufactured products quality with the standards requirements. The availability of modern, outfitted with state-of-the-art equipment testing platform allows us to increase the quality and reliability of personal protective means and to achieve maximum results in ergonomics, protective properties and design of the products.

Quality management system complying with the requirements of the international standard ISO 9001.

A wide range of products, proven quality, reliable protection and comfort throughout the whole working day, affordable price – these are the main advantages of ROSOMZ trademark

Modern equipment, advanced technologies and professional team – all this gives us an opportunity to maintain high level of production, commitment to permanent improvement.

ROSOMZ is a champion! ROSOMZ is always young! Dynamic! Strong! Smart! Active!
Adress: Kolkhoznaya, st., 1, rp. Suksun, Perm Territory, Russia, 617560
Telefon: +79124860906
E-post: p01398@rosomz.ru
Hemsida: https://rosomz.com/
Ladda ner: