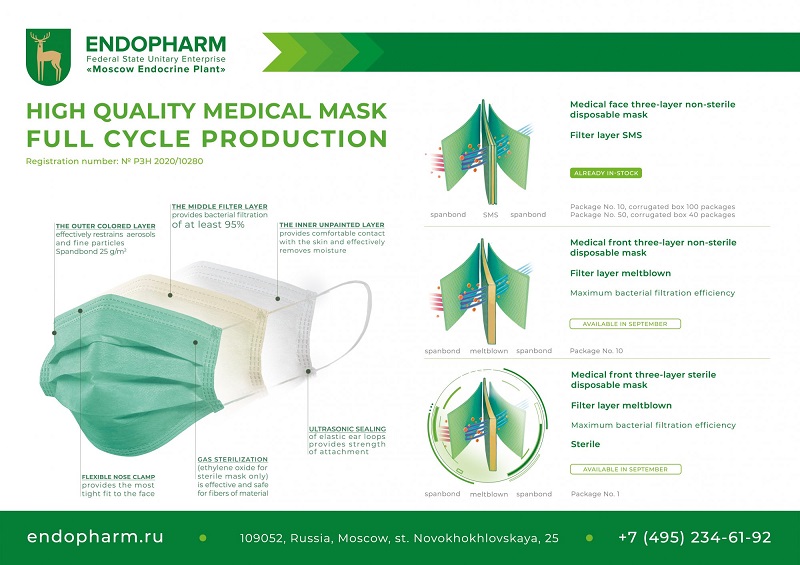 Region: Moskva och Moskva oblast
Branscher: Produktion av kemisk skyddsutrustning
Produkter: Medical masks
Beskrivning:
Federal State Unitary Enterprise "Moscow Endocrine Plant." (Hereinafter referred to as the Enterprise) reports to the Ministry of Industry and Trade of the Russian Federation and is one of the key producers of essential and socially important medical products in the country.

The company has a 75-year history of successful activity in the field of development and production of maedical products, from the manufacture of active pharmaceutical ingredients to the production of the finished dosage forms.

FSUE "Moscow Endocrine Plant," today it is - 3 production sites, own departments of scientific and pharmaceutical development, vivarium, accredited testing laboratory and more than 1000 specialists.

The Enterprise is characterized by a high culture of production and provides consumers with quality effective and safe medical products available to consumers regardless of their standard of living and material income.

The assortment portfolio of FSUE "Moscow Endocrine Plant" includes more than 90 types of medical prodcuts, 58 are included in the list of essential and essential medical products approved by the Government of the Russian Federation.

A significant proportion of medical products are analgesics of central action, as well as preparations widely used in ophthalmology, cardiology, gynecology and psycho-neurological practice, preparations of anti-inflammatory and metabolic action and a number of others.

The Enterprise's products are widely in demand in all regions of Russia and in 12 foreign countries.
Adress: 109052, Russia, Moscow, Novokhlovskaya str., 25
Telefon: +7 495 234 61 92
E-post: mez@endopharm.ru
Hemsida: http://endopharm.ru/en/company/
Ladda ner: