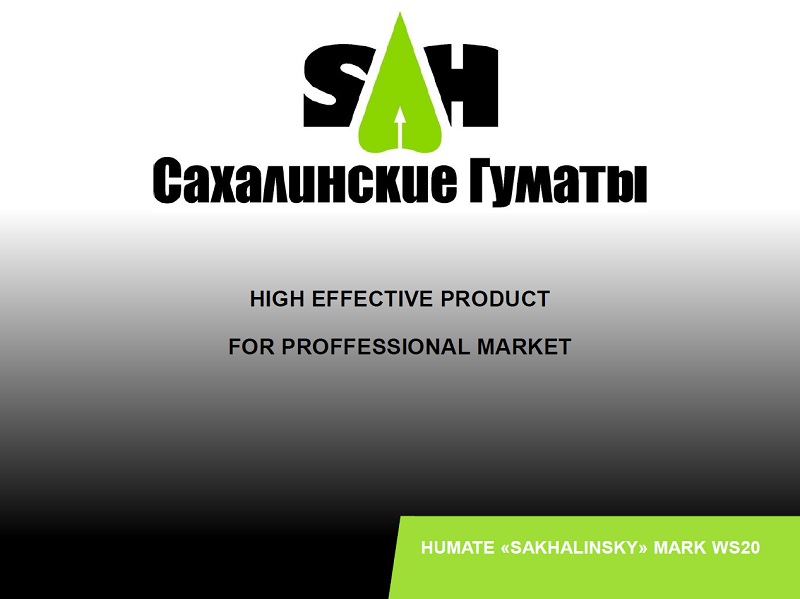 Region: Moskva och Moskva oblast
Branscher: Gödselproduktion
Produkter: Humatgödsel
Beskrivning:
The Sakhalin Gumaty Production and Trade Group of Companies exclusively produces and distributes environmentally friendly natural organo-mineral fertilizer Sakhalin Gumat containing humic acids - the basis for the growth and strengthening of living organisms, active "cleaners" of soil and water from harmful impurities, which have many more useful properties. The Sakhalin Humates product is the only one in Russia that is made from leonardite (highly oxidized lignite) mined on Sakhalin Island.

Sakhalin Island is a unique nature reserve and a storehouse of ecologically clean products, including raw materials for the production of Sakhalinsky humate.

But the main ecological property of humus is the binding of heavy metals, including heavy radionuclides, in the soil, and the protection of all living things from their toxic effects. The more humus in the soil, the more pronounced its protective property: food and feed products grown on the soil treated with humates are environmentally friendly.

Humic substances can significantly increase the climatic resistance of plants, protect against pathogens of many diseases.

The effectiveness of the Sakhalinsky humate was confirmed by the best agrochemists and soil scientists of Russia. The preparations have successfully passed a full range of agrotechnical tests and are recommended for widespread implementation, both for the reclamation and restoration of depleted and contaminated lands, and as an effective accelerator of plant growth and development.
Adress: 105005, г. Russia, Moscow, post box 91
Telefon: +7 (965) 399-95-21
E-post: humate.project@bk.ru
Hemsida: http://www.humate-sakhalin.ru/
Ladda ner: