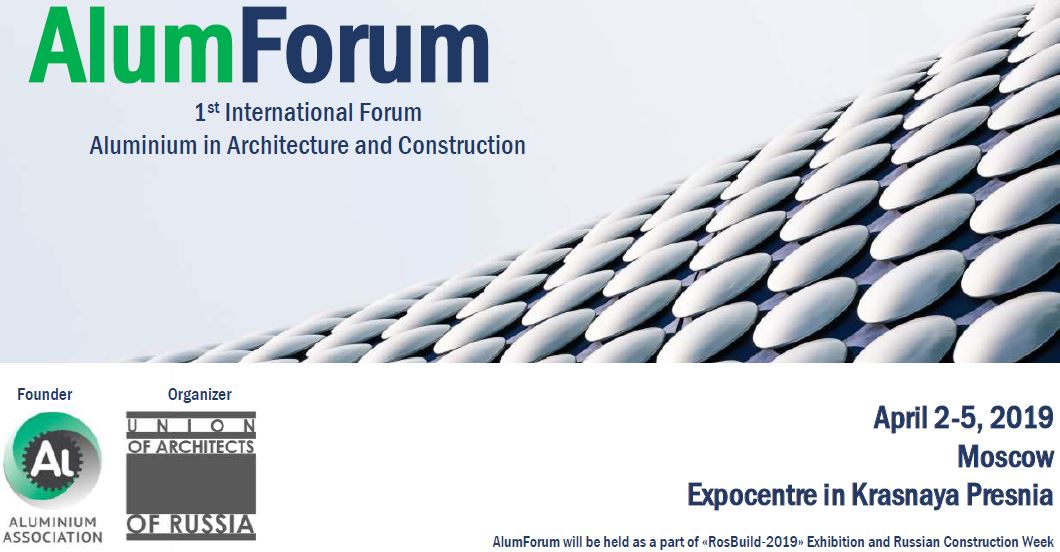 Tid: 02–05 april 2019
Plats: Moscow
Officiell hemsida: http://www.aluminas.ru/en/events/for_the_first_time_on_one_platform_forum_aluminium_in_architecture_and_construction_and_forum_of_ind/
Om evenemanget
Founder of the Forum: Association of Aluminium Producers, Suppliers and Consumers (Aluminium Association).
Organiser: Interregional Public Organisation 'Union of Moscow Architects' (IPO UMA) and the Union of Russian Architects.
The Forum is focused on the use of aluminium in architecture and construction.
The Forum consists of three parts:
- Exhibition display;
- Business program;
- Review contest 'Aluminium in Architecture 2019'.

Exhibition display:
Application of aluminum as bearing and enclosing structures of residential, public and industrial buildings, in the construction of high-rise buildings and skyscrapers, transport infrastructure facilities, decorative elements and minor architectural forms in the interiors.
The exhibition is designed to demonstrate materials, finished products, technologies and innovative solutions, enhancing possibilities of aluminium application in architectural and construction practice.

Themes: aluminium in facade systems, wall panels, translucent structures, window and door profiles, balcony blocks, stained glass windows and shop windows, entrance groups of buildings, roof lights, roofing and ceiling, internal partitions, bridge and bearing structures, designs and finishing materials for transport facilities and transport hubs, aluminium building constructions from alloys, spatial and long-span structures, innovative aluminium alloys for engineering systems, cable and conduction products, coating for aluminium structures, interior, lightning fixtures, furniture and decoration.

Business program
Authorities, enterprises and companies producing various types of aluminium structures for construction, Russian and world leading architects as well as designers are invited to participate in the Forum. The discussion will focus on the legal framework related to the use of aluminium in construction. The business program includes round tables, presentations, reports and master classes.
Ladda ner: